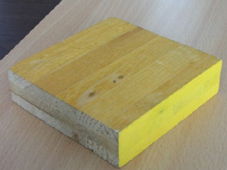 Shuttering for building
Three-ply shuttering panels
Application:For Concrete formworks, Constructional materials.
Characteristics:
Three Ply Shuttering Panels are made of 3-plywood with a thickness of 9 mm each ply.
The 1st and the 3rd ply grain are arranged at right angles to the second ply.
Glueing is made with high temperatures and pressure.
Both sides of the panels have a melamine protection in orange colour and to avoid humidity.
Kind of Wood:China Fir
Dimension:
Packing:
Palletized, with plastic film banded and using iron strip to enlace and package prepared for loading with a forklift.